About Galleon Film Studios
About the film studio
Galleon Studios opened it's doors in 2006 offering fully equipped HD, now 4K, filming studios to the Northwest's thriving media industry. Located in a convenient, easy access location just off the M62 near Manchester we've serviced hundreds of companies and produced thousands of hours of professional video content for broadcasters, independents, agencies, private companies, local authorities, charities and video production companies large and small.
The space comprises of 3 main studios, a chill-out area with client monitor and post-production offices.  There is also a makeup room, a changing room, a kitchen, three toilets with shower.  Basically, all you need for a stress-free filming day.
Galleon Productions
Galleon Studios is part of Galleon Productions; a video production company founded in 2003.  Galleon Productions is run by Kris and Les who'll welcome you to the studio and offer assistance in any way you need.  We've years of experience working on both large and small-scale productions.  We're happy to offer non-judgmental advice to get the most from the space.
As a video production company, rather than a photographic one, our hire studios were built with an eye for the moving image.  As such we have to hand the latest cameras, motion control rigs, track, dollies, autocues, a staggering array of microphones and the best lighting around.  The latter of which is included at no extra charge in the hire price.
The main studio is the infinity cove studio.  Built with no visible join between the floor and wall the infinity cove is used for both green screen and white screen productions. The lack of horizon line lends itself to video productions where the viewer needs no distraction from the onscreen events.  We consider the studio the best green screen facility the North West.  To this end we ensure it's well maintained; freshly painted before every hire and lit to perfection by one of for you to walk in and use.
The second studio is the exceptional soundproof studio. Heavily insulated, fully lit and air-conditioned this space is ideal for intimate pieces-to-camera and slightly larger scale productions.  Being soundproof means that there are no interruptions saving time and ultimately money with a more efficient filming schedule. Over the years it has been used for live TV, webinars, kick starter videos and talking heads testimonials.  The space can be used for sets and has featured as the backdrop for many documentaries and history programs.
The third studio is The Live Suite opened in 2020. It combines an infinity cove with a soundproof studio and is specially designed for live productions. It is the studio of choice for live streaming as its tech is backed up by superfast 100up and down fibre optic. The Live Suite is also the home of our Podcast studio. The Live Suite in is a self contained building with full facilities and is rentable by the hour for fast turnaround productions.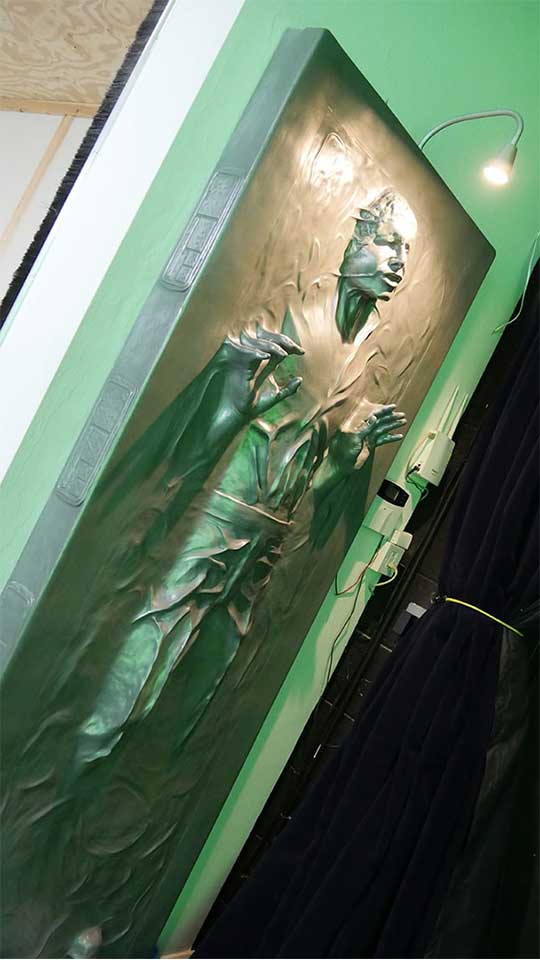 We are always happy to hear from other media and
production companies
so talk to us about your shoot requirements prior to filming and we'll be happy to discuss your project
With ample free parking, kitchen facilities, make-up room, dressing room, toilets, fibre optic wi-fi access, weekend hires for no extra hire cost, free lighting, on-site medic, free teas, free coffees, free biscuits and free sweets – why look further?
Download Our Brochure And Ratecard.
Which Studio Will You Choose?