5 Things To Make You An Expert In Front Of Camera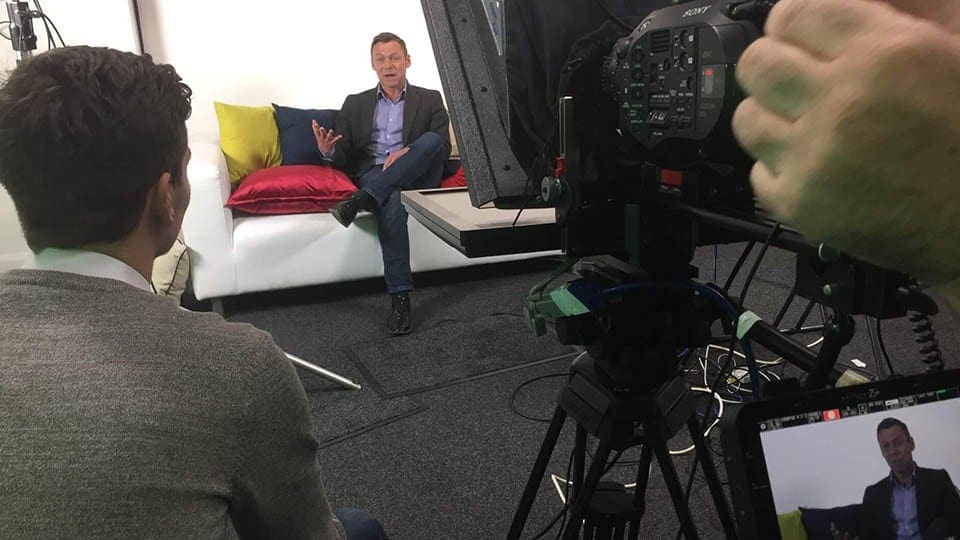 Today appearing in front of camera is considered a natural skill it's just assumed you have. Video is everywhere. Appearing on video is also essential to help publicise your business or mark you our as an expert in your field. Yet for most the idea of appearing in front of camera can be somewhat daunting. Yet not to worry. We have essential tips to make you as slick on camera as the best TV presenter.
Galleon Productions is a Manchester video production company with loads of experience in every facet of production. Among the skills gathered since our creation on 2003(!) is that we've interviewed a lot of people. We've filmed them for customer testimonials, TV shows, web videos, documentary, e-learning modules, idents and BTS films. We've so much experience at delivering pieces-to-camera that we built our own interview studio that's ideal for talking head videos. While some people in front of camera take to it like a duck to water for some contributors the idea of being front and centre for a video fills them with dread.
So whether you're a business owner wanting to tell the world about your business, a contributor whose been asked to give their thoughts on camera, a customer whose been requested to give a video online review or an expert who whose been called in front of the lens, we have some advice for you. Be it in the comfortable environment of a studio or at your desk for a video production crew here's 5 things you should do to get the best from your talking heads video.
1) Abandon your preconceptions
The best advice is to abandon your preconceived notion of how things will go. You may well have built up a certain resistance in your head to appearing on camera, or how it will be when you do. We're all quite media savvy these days so the expression "a little bit of knowledge is a dangerous thing" has never been more true. If you're not using an autocue then bear in mind the points you need to get across.
Have a point. Depending on the length of the final video you should have 3 to 5 points you want to get across
End with a call to arms. You need to tell people what you want to do and why you're on video in the first place
Trust the professionals. It's not your job to come across well on camera; it's the duty of the crew filming you to ensure you come across well. Their job is to make a great video with you in it so leave it to them to tell you what to do.
2) Wardrobe and Make-Up
Unless it's been expressly stated assume that there isn't a make-up person on hand. So, if you're a woman touch up your make-up before going in front of the lens. If you're a man it's just as important to defend against "shiny head" syndrome. You're nervous, you'll sweat – it's a fact of life. Mac make some fantastic anti-shine transparent make-up. It's always worth buying some before you go on camera or asking if there's any available.
Wardrobe-wise you should wear appropriate clothing to reflect your brand. Don't worry about shoes, or your bottom half really as most interviews are waist up.
You should bring extra tops and ear rings/jewellery to give the director options.
You should avoid patterns, stripes or checks as they can drive the camera wild with interference.
Avoid white too as with the studio lights or those from a video production at location the white can be "over exposed" making your shirt "glow" in an earthly way!
3) Do your homework.
You're the expert but don't assume all the answers will come naturally. Refresh your memory on the key points you want to cover. It's not unusual to discover you've forgotten something. Sometime the most important fact has slipped your mind. Take the time in the hours or days before you're due in front of camera to revise your field of expertise be it your company, your discipline or your services. This will help focus your mind.
4) Repeat the question.
If you're being interviewed it's always a great help to repeat the question out loud back to the interviewer. Not only does this help crystalise what you've been asked in your own mind it helps them to frame your question in the final edit. So if you're an expert in Hats and you're asked; "What's your favourite hat?" Don't just say "trilby". Instead say "My favourite type of Hat is a Trilby because of X, Y and Z". It's a well rounded answer that makes you seem like what you are; the expert in what you do!
5) Arrive in good time.
If you've been scheduled for an interview or a piece-to-camera it's possible you're just one of many talking heads being filmed that day. The reason for this is for your sake not for anyone else's. If you arrive late; you can be flustered and not ready to be thrown in front of camera. If you're unprepared because you're running late then again this can cause you stress which means you're not at your best. So if you're filming somewhere you don't know then check your route. If the crew is coming to you make sure your location and you are prepared and you're suitably relaxed.
Always remember it's your favorite subject your talking about; it's something you know intimately. Treat talking about it on camera as though you're talking to a friend or a colleague. The best example I can give is to adopt an attitude as though you're at a dinner party and someone asks; "tell me what's been going on". Speak to them in an excited and factual tone of voice that encourages them to learn more
Above all enjoy it; it's only natural to be apprehensive but it's a fun experience that you may only get to do once. Make the most of it!