Case Study: Commercial Filming At Galleon Studios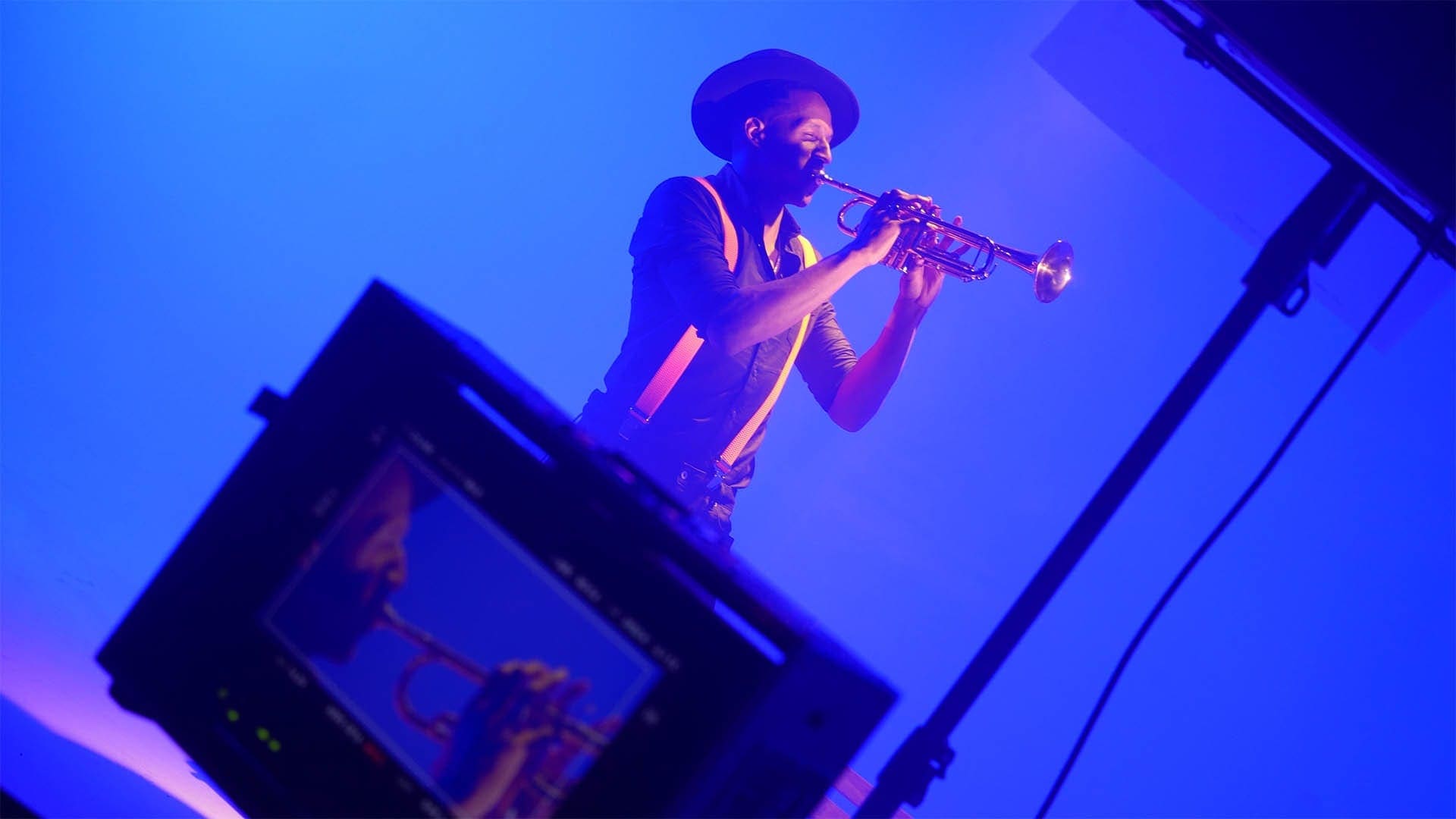 Galleon Studios is a professional fully equipped filming studio located in north Manchester. As a specialist video production space we're the first phone call for broadcast production companies seeking a home for their productions and projects. Such was the case with The Unknown, a creative agency from Italy when they looked to the UK for a location their commercial. They had been approached by their client, Bet Juego, to make a 30-second long commercial with Columbian Footballer Yerry Mina to promote their online Gambling company.
As a footballer who plays for Everton FC and with it being Mid-Season there would be no way to film with Yerry in Italy. So The Unknown searched for a UK video production company and studios that had the capacity and experience to become home to their ambitious production.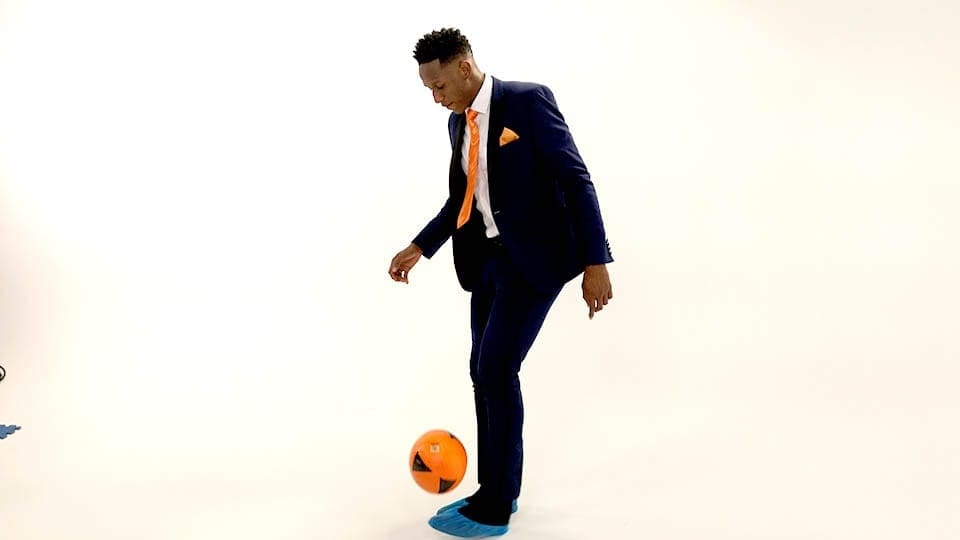 Working to a budget
When filming in a different country it's easily possible to lose control of the budget. You're really placing your trust in every company you deal with not to take advantage. It is the same for any company outside dealing with a UK production partner.
As a busy production company we used our experienced in-house producer to liaise with not only the Italian agency but the UK contractors they'd need to make their project a reality.
Working to a schedule
As with most projects here at Galleon Studios the turnaround time for this commercial was very fast. We had only 2 weeks to source the many different facets that would tick the variety of boxes their advert required. What's more the whole commercial with it's 5 complex set ups that had to be shot in just one day in the Infinity Cove Studio to accommodate Yerry's availability.
Finding the crew
As a video production company we've been established since 2003 and as such we've an army of capable freelancers who we can call into action on any project. So despite the budget and despite the schedule we were able to offer the very best crew in all departments.
Props
The commercial had very demanding needs as regards props. Yerry was to feature in a variety of locations within the infinity cove studio. Each scenario had it's own prop requirements. When time is of the essence, and getting the best props is essential, we waste no time in contacting prop queen and noted production designer Tina Hicks. And the requirements of this shoot were many and varied. A dozen footballs each needed to be painted orange for one scene, a jazz trumpet, a park bench, a baking table and tray from a bakery. And more than this there actually needed to be proper dough on the table and in the trays themselves. Each challenge was met, as always, with good humour by Tina and she secured these props and many others in double quick time.
Kit hire
The Manchester studio can be hired with or without kit or crew. By opting to hire the space, kit and crew you get access to the latest cameras, microphones, rigs, lighting and specialist kit. The Unknown opted for this solution meaning everything was available to them for a fixed price.
People like the kit that they are used to working with and because of this the agency required an Arri Mini and additional lighting kit. With our connections at Manchester kit hire facility Procam we were able to secure exactly the camera and light panels they wanted.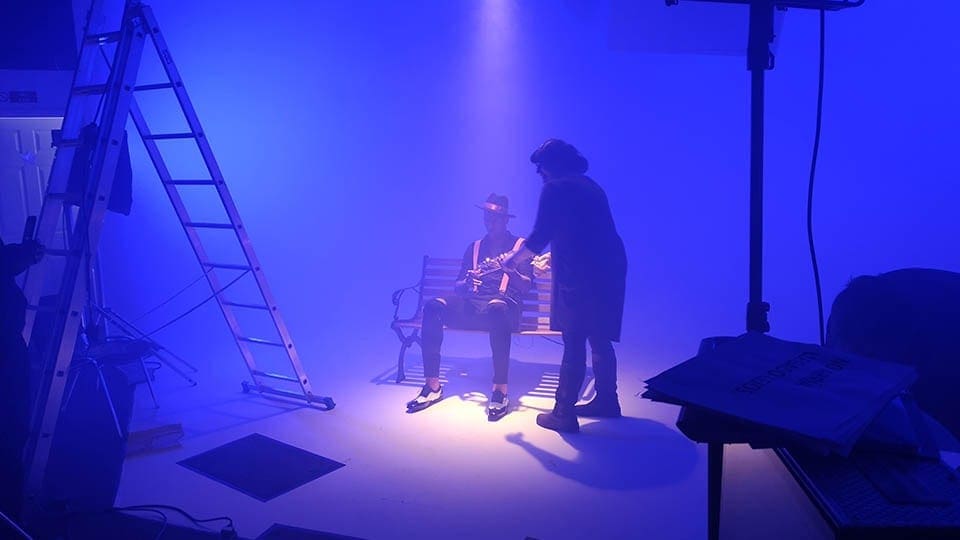 Crew Hire
Galleon Studios have worked on large-scale projects and micro budget productions. So when it comes to crewing on the shoot day we can use not only our own skills but draw on those of others. The Arri Mini is incapable of recording sound (or even recording a guide track) as such the audio was recorded courtesy of Galleon Studios amazing microphones and our trusty field recorder ably operated by in-house crew.
To camera assist on the Arri Mini the talented Matt Noon stepped into the fray. We've worked with Matt a lot and his skills and unflappable nature make him a real asset in any production. Having worked with the Mini before Matt was a given as far as the crew for the shoot was concerned.
Lighting–wise, no matter how one cuts it you can't do better than hiring one of our in–house gaffers to light your shoot. We know each light intimately and the many strengths of each light in relation to the studio space itself. This comes from using the studio on our own video productions and those of countless others from clients across the world.
The Perfect Studio Location
Though Yerry Mina is based in Liverpool there is no better filming facility in the North West than Galleon Studios. It's ideal location off the M62 make it perfect for Liverpool and Manchester Airport meaning both Yerry Mina and the Italian Agency could reach us quickly and easily.
Extra Kit
When you hire a specialist filming studio like Galleon Studios you really get more than a place to film, or a crew. You get a fantastic kit hire facility right under your nose too! As the agency discovered when they requested a camera for BTS filming. They needed something quick and simple to use. Enter our old, trusty Sony PMW-200. What's more as The Unknown had opted for our Full Crew & Kit package every piece of kit in the Manchester studio is included. This meant that this request and many others had no effect on the final bill. A real boon if you're working to a budget and don't want to be "nickel and dimed" out of existence. The use of the studio also meant that the talking heads for the BTS video could be shot in our soundproof studio that was specially built for such interviews.
Catering
Last, but never least, the studio offers a variety of catering options. In a long shoot day the promise of excellent food makes the crew work harder. We arranged with local caterers to fulfill the food needs and the diets of the crew, the talent and the agency.
In the next part we will look at the actual shoot day for the advert and reveal the final commercial!