Live Keyer at Galleon Studios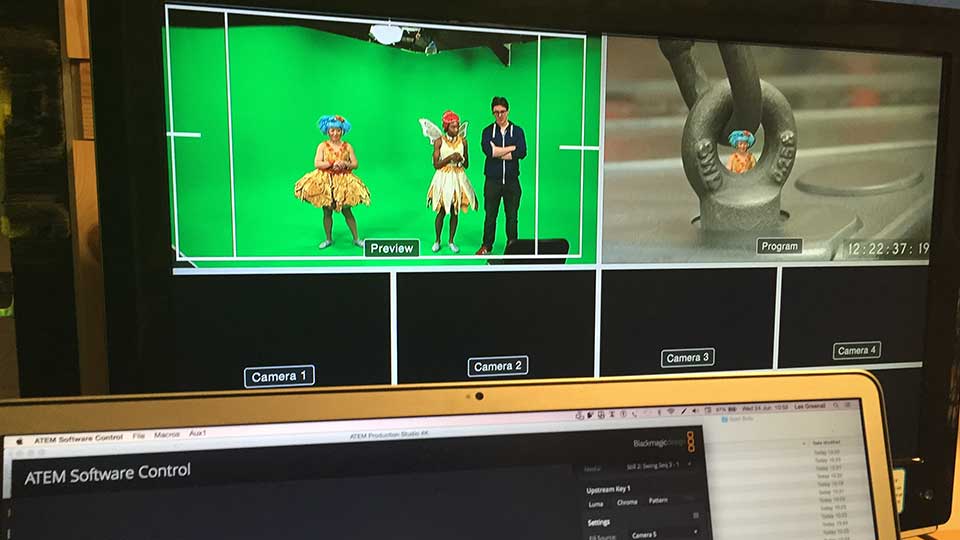 See Your Keyed Footage As You Film
If you're a video production company working on green screen at our Manchester hire studios then you should hire our live keyer. If there's one piece of kit that takes the guesswork out of green screen it's our live keyer. Our live keyer, in reality, a Blackmagic ATEM, allows you to merge the feed from your camera with that of your proposed background.
If you are filming an actor in the studio and you've previously filmed the background, or have a still. We can use this "background plate" as a reference and superimpose this actor into the scene. No matter the nature of the footage you've got in mind, if it already exists, we can take this footage and play it live over the studio shot sequences.
Why Use The Live Keyer?
Two words; cognitive dissonance. Say you're watching a film set in a fantasy world and you notice one of the characters is wearing a watch, or there is a Starbucks coffee cup in shot. You may not expressly notice this but part of your brain does and takes you right out of the moment.
It can be the same for a green scene shoot. If the lighting isn't right or the camera position is wrong then your target audience is no longer watching your film. They're no longer actively engaged in your product or your message. Instead, a part of their brain is saying; something isn't right. By making sure your background green screen footage matches your foreground filming subject as you film you can avoid disengaging with your audience.
What is it?
The live keyer, or Atem 4K Production Switcher, is a hardware keyer. It does with hardware what software keyers like After Effects and FCPX do. Like any keyer it allows you to replace the colour in a chosen shot with any colour. Our keyer has a colour picker. This means you choose the colour and it removes that colour from the shot. It then replaces the colour with the background. Generally, this colour is green but it can be any colour. This means that the live keyer is just as effective on blue screen. So if you have a blue screen shoot you can still use the Atem live keyer.
The keyer is operated by a mac which is also included in the hire price. From here you can choose the resolution of your camera all the way up to 4k. The live keyer can also take multiple camera inputs so if your shoot is multicam that is not a problem. Also in the mac you load in the background still or any stills you'd like to key onto. If your background footage is moving that's not a problem either. We simply play the footage in from another laptop. The live keyer is quite adaptable and we can set it up for you initially. Alternatively, you can hire an experienced technician from us who will stay with you on your shoot and adjust it accordingly.
The Chromakey Solution
By using the live keyer you can match figure position, camera position and, most importantly lighting to your scene. Say, for instance, your subject is in a park on a sunny day where the sun is to the east. If you hire a gaffer or use your own, the lighting can be changed to match it. So the key light can be moved to screen left and the height and even the colour adjusted to match the background. This "preview" of what it will look like means that when you finally get both the background and the studio footage into the edit suite you can be confident they'll match. This way you remove the risk of "cognitive dissonance" that takes your viewer away from the film and away from your message.
So I'll Just Capture The Footage From The Live Keyer? That'll Save Me A Ton.
Er, no the live keyer, though effective is really just for preview. It keys in broad strokes and can't do the grading, compositing or finishing you'd ideally want in a final film.
Don't Fear The Green Sceen
If you've never used a green screen studio before the idea of a chromakey project can be daunting. What you have on a green screen shoot that you don't have on any other shoots is a variable. That variable is the green screen itself.  We've all heard nightmare stories about a badly lit green screen that has meant days and days of post-production. We even wrote a blog about "How To Shoot For Green Screen" correctly. So at it's most basic level, the live keyer is a stress saver. Even if you don't have a background if you use the live keyer you get to see that the footage your filming WILL key, and in real time. It takes the worry out of the filming. It lets you envision your project will work. It buys you piece of mind!
Wow Your Clients
If you're an agency or a video production company and your clients are coming in to watch you work you want to make sure they are impressed. Filming actors or presenters in front a big green cove is interesting to them for about 5 minutes. So, why not give them an experience? Allowing your client to see a "preview" of their finished product is a real "wow" factor. They can see their project take shape and you seem like a God! What's more it can save you hours in conversation on the day. Rather than talk through want you want to achieve you can show it, in real time, to both actors and clients.
Summary
The keyer is definitely kit I'd recommend whether your new to chromakey or an expert. It has so many useful applications that we always use it on our own green screen video production shoots. Whether you are in our infinity cove studio, our soundproof studio or even on location the keyer is a valuable and portable asset.
So if you're working on a complex series of shots in different environments. If you are worried about green screen and if it will key in the edit. Or If you want to impress your clients. Well then, the live keyer is for you.
Contact us today to discuss your green screen production and how the live keyer can benefit your project.