If you're looking for studio spaces in Manchester specifically catering for film, video and TV services then you're in the right place. Galleon Studios opened in 2006 as studio spaces primarily for video production. Since then we have opened 3 studio spaces and a Podcast studio.  These studio spaces are available to rent with lighting included and a 10-hour day as standard. What's more, we have kit and crew available to make your filming even easier.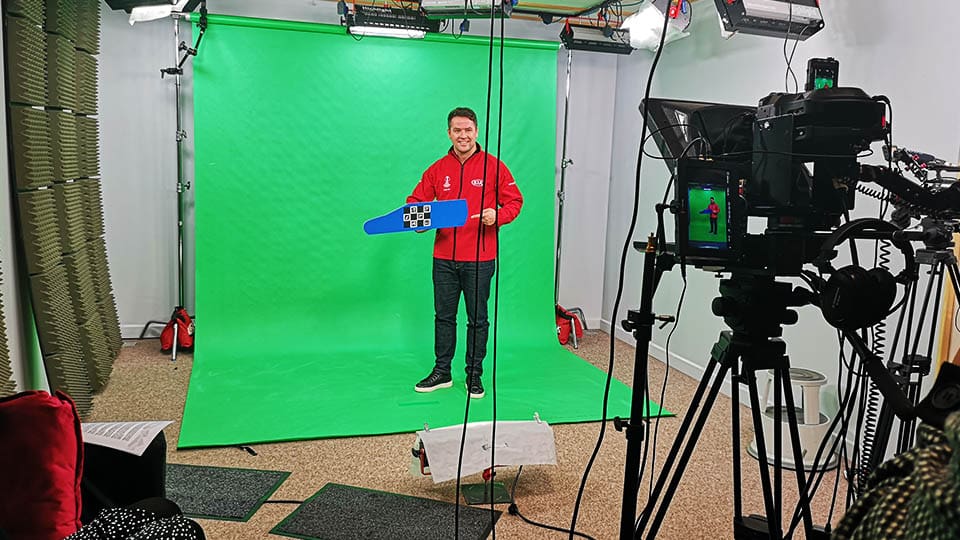 What's Included In Our Studios To Rent?
What's Included In Our Studios To Rent?
Fully Equipped Studio Hire
What Do We Offer:
Galleon Studios have rented our studio spaces to productions large and small. As such we know exactly what hires may want and, more importantly, what they don't. As such we offer:
Lighting rental included. We have a huge selection of video lights, Photonbeard's, Arri's, Dedo's. These range from soft lights, perfect for keying to hard lights that allow you to be creative. For a list of our lighting download our studio brochure below.
Most Manchester studios struggle with access. Our studio spaces benefit from ground floor access. Furthermore, we have double-leaf doors for the biggest sets and the widest cars. The infinity cove studio is large enough to film cars and vehicles as a car studio and construct sets. While the Soundproof Studios and The Live Suite are all ground floor too meaning easy load-in and load-out of the spaces.
No Transport Headaches
Our Manchester studios space also have free parking. A real boon if you have a large number of crew, clients and talent. At Galleon Studios our rental spaces have parking for up to 30 cars.
Drinks and snacks are also included. Teas and coffees and biscuits are readily available and free. What's more, most people gain a few pounds from our complimentary sweet bowl.
As we supply the lights it's only correct that we pay the electricity bill. So if you hire any of our studio spaces the electricity is included in the rental. We do reserve the right to charge electricity on non-studio lights. Say you want to blast a 5k HMI at a wall. We'd need to charge for that.
As well as the lighting all grip and gels are included in the hire. We have K-Clamps, Magic Arms, lighting stands, clips, knuckles and grip of every kind. Do you need to attach one thing to another in a configuration never before seen? Then Galleon Studios is the place for you.
Loads More Extras!
Most Manchester studios charge you an additional fee for painting. However, we always paint the studio before every hire. This way you can be sure the space you are suing is pristine for your shoot. We only charge a painting fee if we need to paint the studio a different colour (so green to white for example). If the studio is white and you want a fresh coat of white paint to remove the scuff marks of the previous hire – not to worry. We do that free of charge before you show up!
Plenty Of Room
I always love it when people declare free Wi-Fi; like for some reason, you shouldn't. But we do. We do have free Wi-Fi!
Galleon Studios also have a Make-Up Room available in the studio space. Our Make-Up room has mirrors, strong lighting and is a comfortable place for talent to prepare.
At Galleon Studios we also have a dressing room. Not only is this a great place for wardrobe to be based but it means you can look at our Wall Of Fame of various celebrities who've been to our Manchester studios.
What's more, we have a client lounge, which cannot only serve as the base of operations for the all-important team brief but also offers live monitoring. Here your clients can watch in comfort as their video production project comes together. Moreover if they get bored we have Netflix, Amazon Prime and a Nintendo Switch they can use instead.
Outside of our filming studio spaces also have a garden area. This space is ideal for taking a break. For just seeing the sky when you want to get away from the studio lights, camera and action.
Each studio rental also includes a studio manager who is a qualified first aider. This way if the worst does happen there is someone around who can help. If you need a bit more practical help we also offer crew. Most companies hire our gaffer who is not only familiar with the space but can help you get exactly the look you're after. 
What Other Kit Can Be Rented?
What Other Kit Can Be Rented?
Our Manchester Studio Spaces are fully kitted out. Not only with the aforementioned lighting, but with filming kit too. We have 4K cameras, the best microphones of any studio we know, autocues, wire-cams, motion control cameras, hard drive recorders, Tricaster vision mixers, sound desks, live streaming kit. You name it and we usually have it under the roof of our studio facility. You're best bet for a complete list of kit you can rent is to download our brochure. As well as more details of the space and services we offer we have a complete rundown of our latest equipment.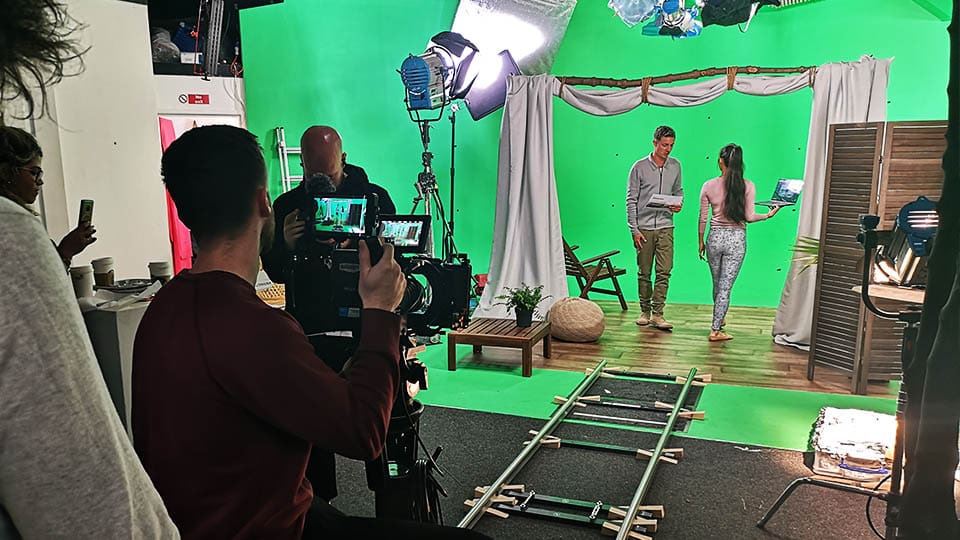 Join Us For Your Next Production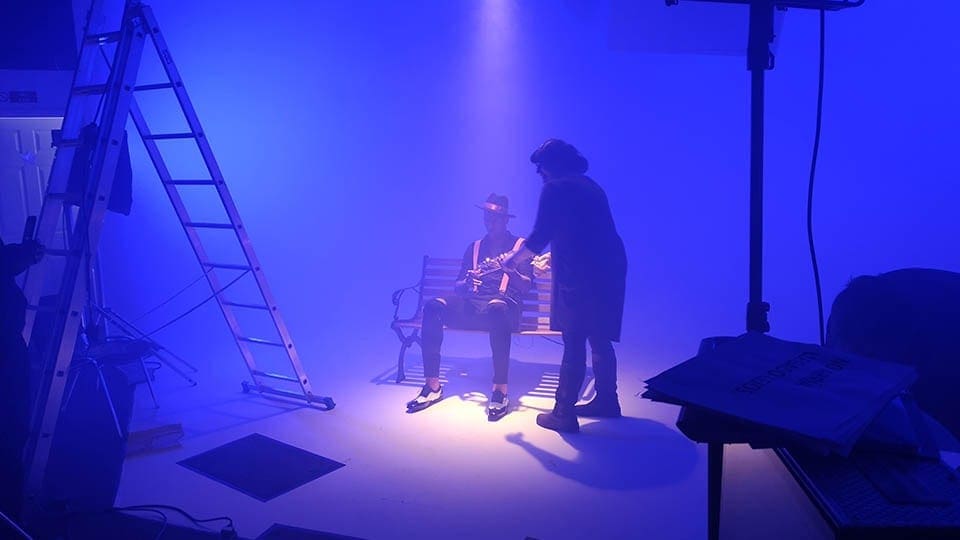 The major broadcasters, smaller independents and agencies looking to enhance their video output regularly hire out the studio spaces. At the studio we've filmed, dramas, e-learning, interviews, music videos, VR, AR, web videos, product videos, children's TV, exercise videos and so much more. If you consume media of any kind I guarantee you've seen our studios (though you probably didn't know it). 
From the BBC we've greeted Cbeebies, the premier league, cutting edge drama, entertainment shows such as "The Hairy Bikers" and "The One Show". As we have two of only three fully soundproof studio spaces in Manchester we've shot a lot of pieces-to-camera and interviews. We've had hard-hitting Channel 4 documentaries, we've had Channel 5 "From Hell", ITV has filmed clip shows here too. Sky and BT have shot sports stars from every field.  We've been the go to studio for agencies looking to refresh their clients brand, we've launched cutting edge AR and VR tech, we've been the first to film medical breakthroughs. If your client has a message film it here, if you have a new product, film it here, if you want to produce uncompromising video, film it here.
Whatever your production big or small (there are no *small projects) then we want to welcome you. Take a look at our 5-star reviews on Google and get in touch about your next project. Our studio space is ready to make it a reality.
Download Our Brochure And Ratecard.
Which Studio Will You Choose?