Galleon Soundproof Studio
Our Soundproof Film Studio
Galleon Studios are proud to offer their soundproof film studio for your next production.  Within the north Manchester video studio, we have created the perfect filming environment, giving comfort, space and the convenience of a completely sound proof filming environment.
This studio, dubbed "Hush", is fully sound proof allowing you to film uninterrupted whatever the weather, which, lets face it, in Manchester is a bonus!  The space is 14ftx26ft and 10ft high and is ideal for pieces-to-camera as well as product demonstration videos. Need a fully soundproof infinity cove then check out "The Live Suite". 
This hire studio comes with all lighting pre-lit for your shoot and a gaffer is availble to hire to help achieve the perfect look for your production.  "Hush" is air-conditioned for a pleasant shoot and provides an oasis of calm as it allows you to shoot away from the hustle and bustle of a location shoot to get the best from your contributor.  If you require more space then there is the option to use the infinity cove studio, which is sound dampened rather than sound proof.
infinity cove Manchester
You should never compromise on sound.  Often it is the audio that's more important than the visuals, so if your production is reliant on achieving great usable sound then look no further; we're one of only two studios in Manchester that are fully insulated from the outside world. Our soundproof film studios have been used for interviews, training videos, talking heads and web videos.  "Hush" has also been used for small sets and live TV productions. If you're using it for green screen than we can also supply the live keyer – a hardware device allowing you to preview the finished key as you shoot.
Client comfort
The soundproof film studio has a live feed that runs from the filming space to the client lounge meaning that they can watch without setting foot into the filming space. Ideal if you want to maintain an intimate feel while also having clients, producers and crew close to hand.
Kit to hire in the studio
Within Galleon Studios you can hire essentials like cameras, microphones, autocues and interratrons; all you need for your production and these are available both in and out of the studio.  Speak to us now to get the latest on our studio prices and equipment.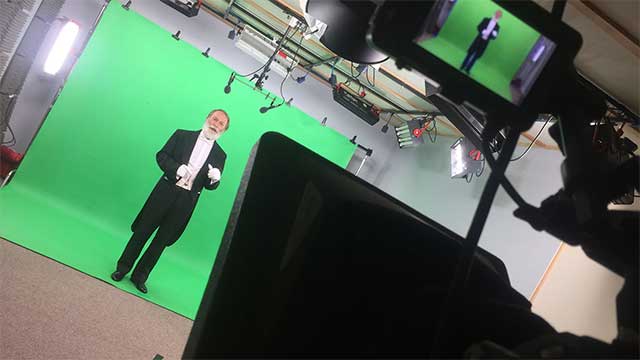 Basic
Hush Studio

All Lighting

All Facilities

Gaffer

All Kit

Additional Studios
Standard
Hush Studio

All Lighting

All Facilities

Gaffer

All Kit

Additional Studios
Pro
Hush Studio

All Lighting

All Facilities

2 Crew

All Kit

Additional Studios
Please note: For the safety of all our clients there is an additional £30+vat cleaning fee on all bookings.
Download Our Brochure And Ratecard.
Which Studio Will You Choose?