Green Screen Studios For Live Streaming, Virtual Events & Podcasts
Welcome To the Live Suite
Our amazing Live Streaming Studio has been specially built to meet the demands of live streaming as well as general filming. It's a self-contained studio with a green screen infinity cove and is fully soundproof. It's designed to be used for live productions as a virtual events studio or podcasts studio.
We have designed The Live Suite to suit the demands of today's filming where you need less crew, more time, and an environment, where you can just "film and go".
Working To Our Strengths
The Live Suite combines the best parts of our 2 other studios. The infinity cove of our famous Infinity Cove Studio and the outstanding acoustics of our Soundproof Studio combine to give you a functional and creative space to film uninterrupted. The studio is fully lit to give you an even green screen key using our 14 years of chromakey experience.
Unlike a lot of companies who've only recently had to "pivot" their offerings to live streaming we've been live streaming both in-studio and on-location since 2009. We've streamed Royal visits, red carpet events, conferences, symposiums, awards shows, product launches and even operations! We knew exactly what the studios needed in order to deliver what clients needed to move the way they communicate online.
What Live Streaming Options Do I Have For My Event In The Live Suite?
As for the keying itself it's all handled by our Tricaster Mini, a remarkable machine that replaces the background while also live streaming. Using it you can be (virtually) anywhere in the world. Galleon offer a host of Virtual Sets for you to choose from or, for a fee, can even design and make your own using your branding. Again making us the perfect virtual events studio.
Live Streaming Studio: The Kit You Need
Our Live streaming studio is no good without a camera and we can offer multiple PTZ cameras (that stands for Pan, Tilt, Zoom dontcha know) or fixed lens cameras to film you or your presenters. We also boast an impressive number of sound options and can offer in-ear monitors so your talent can hear directors or participants half a world away.
It's great to have the toys but it's no good if you don't know how to use them. So we have an experienced technical team to set-up your stream. We can also add lower thirds, graphics and live text to make your event really pop!
"I need to add my powerpoint/presentation to the live stream. Is this possible?"
Yes, we can hook a computer into the livestream and when you require share any of it's programs to the live stream. This is great if you have a presentation, product design or even a video to share with your online audience.
The Live Suite
Studio

All Lights

Electricity

Parking

Teas & Coffees

High Speed (100mbps Internet)
A Studio Adaptable To Suit You
If you're the kind of person who's lost for words then we can add an autocue to the hourly rate. Need more cameras? The Tricaster can take multiple inputs, this means you can add cameras which is useful if you have multiple presenters or wish to jazz things up with multiple angles of your speaker.
The great thing about The Live Suite is that it's completely scalable to match your virtual event. Need a basic live stream to your Facebook page? No problem, need a stream on your website with multiple presenters arriving at different times, with multiple VT's, graphics and lower thirds? No problem.
Where can I stream to?
Anywhere you like. Share a video message on your social media channels, stream to website, send to Youtube, Vimeo anywhere you like! What's more we even have our own low latency, high-quality streaming platform so speak to us about where your stream needs to go. As a virtual events studio we can ensure your live stream gets seen by exactly the right people.
Left Field Options
Tired of the same old Zoom, Microsoft Teams, Skype or Go To Meeting set-up? Then inject your communications with some green screen. Not the cruddy one that comes with Zoom but proper chromakey where we can place you in a fully immersive environment, offering camera movement and spectacular graphics and visuals. Yes, it's time to wake-up your staff with a jaw-dropping, eye-popping Zoom call!
Please note: For the safety of all our clients there is an additional £30+vat cleaning fee on all bookings.
Podcast Studio
The Live Suite is also our studio of choice for Podcasts. Here at Galleon Studios we love a Podcast and we'd like you to join us for yours!
Offering a fully equipped studio with Rodecaster Recorder, condenser mics and even cameras if you need them it's the perfect space to walk in, record, and leave with your Podcast.
We have a whole page dedicated to our Podcast Studio offering so check it out! Or book it online via its very own dedicated Facebook Page.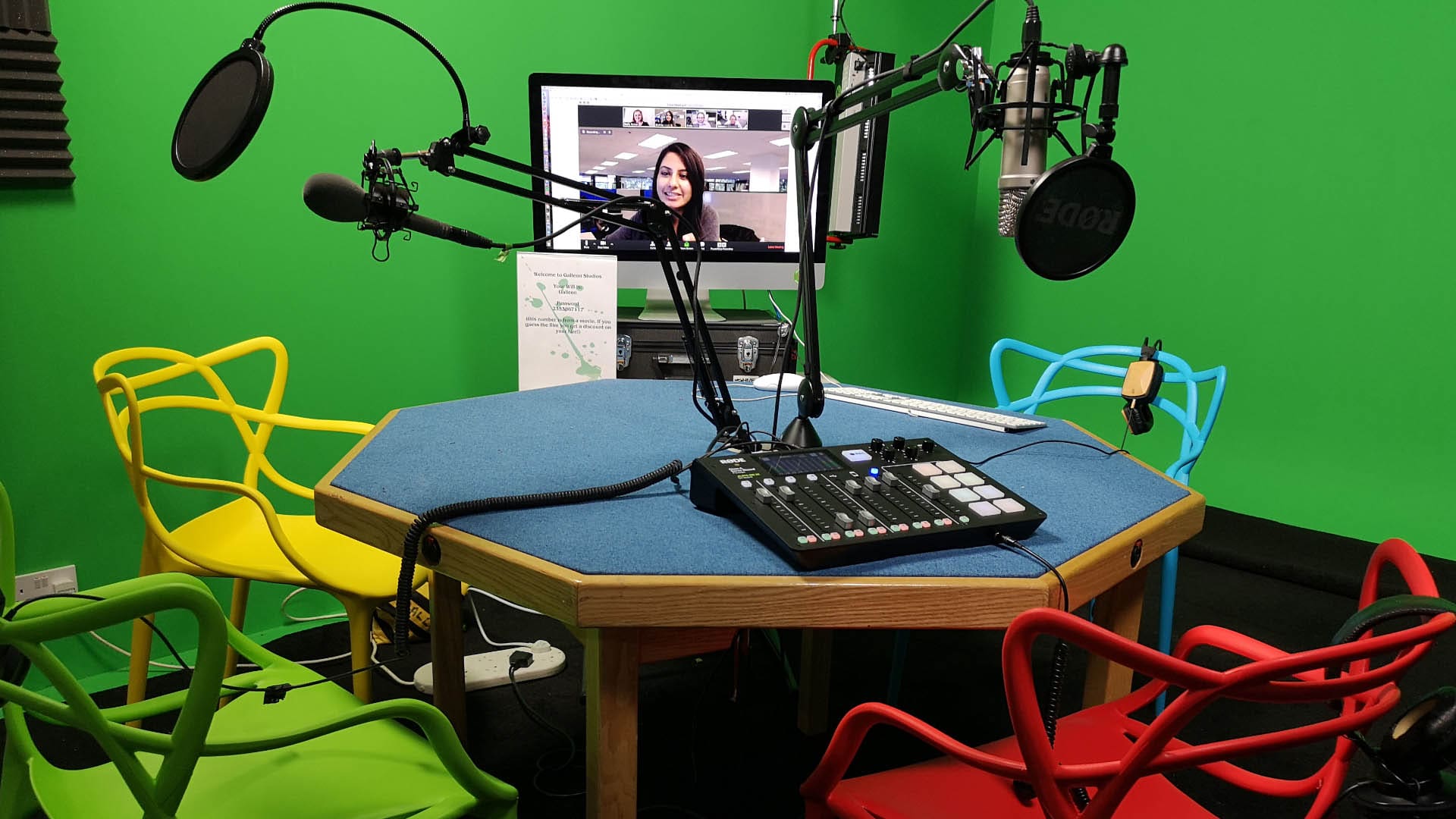 The Studio You Need For The Time You Need It
We've made our Live streaming studio a place where clients can record in comfort and silence. Able to achieve their ambitions in a professional environment offering all the kit and help you need. Moreover the live streaming studio has free parking, super fast 100mbps internet, kitchen with free drinks, toilet and shower. We're flexible to fit your project and always happy to discuss options with you in advance. We can even offer a streaming platform for your live stream too. So get in touch about your production now!
Download Our Brochure And Ratecard.
Which Studio Will You Choose?