Manchester's Premier Infinity Cove
The Infinity Cove
Often imitated elsewhere but never bettered The Infinity Cove hire studio is one of our three amazing studio hire spaces. In contrast to our soundproof studio the infinity cove is a clean, green screen space with no horizon line. The lack of corners gives the impression that it goes on forever and consequently anything on it is perceived to be floating in space.
Properly lit, an infinity cove creates a unique look that makes your product literally stand out. A video shot on an infinity cove, such as the one at our studio, simply screams production values.
The recently extended infinity cove is the heart of Galleon's Manchester studio and the primary filming area. As such it is hired "pre-lit" to save you the time of deciding the correct lighting positions for your video. Further lights can be used to light the subject but don't worry; there's no extra charge for the extra lights either; they're all included in our hire fee, as is electricity, so no surprises there also. We do encourage those who use the studio to hire our in-house gaffer if they have more specific lighting set-ups.
Green Screen Infinity Cove
The advantage of a sparse cove is it gives your audience nowhere else to look but at your product or message. The green screen infinity cove allows whatever you imagine or desire to be superimposed around your real life props or characters. You'll be familiar with the many commercials, films and videos that use this technique and many of them have been shot here in the green screen infinity cove studio. "Inifnity" one of 2 infinity coves available to hire at our studio is L-shaped and 38ft in length and 13.6ft in height you can find our floor plan here.
Always Fresh
The studio cove is always painted, free of charge, prior to your hire so it will always be a clean blank canvas for your video production. The cove is painted using Rosco chroma green video paint. We also have available a "live keyer"; a hardware chromakey mixer that allows you to preview your final key as you shoot.  You can learn more about it from our green screen page.
Black screen
The infinity cove is able to be transformed into full blackout without the need for painting. We use blackout drapes and flooring to create a pitch-black environment and from there you can paint with light to illuminate your scene as you see fit.
Need the infinity cove white or another colour?
Though the cove in the main hire studio is usually green it is available to hire white, or any other colour.  There is a painting fee to transform the studio to cover the cost and time to paint the vast space of our cove.  However, it's not unusual for the cove to be painted so it's always worth getting in touch, regardless the stage of your production, to find out exactly what colour our studio currently is.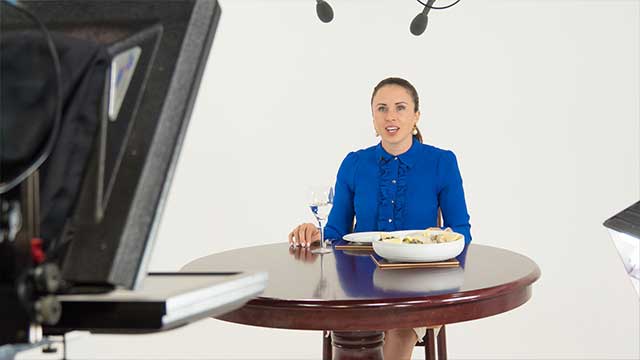 Lots of Extras
For all video shoots the infinity cove is hired with a full lighting kit. This kit includes our complete range of lights that include Arri's, Dedo's, Photonbeard's, Fluorescent lights, Strands and many more. We also offer a lighting technician to enable you to get the "look" you're after. 
We also have all the equipment you need for filming to hand and it can be hired directly from us on the day. This includes cameras, mics, tripods, teleprompters, gimbals, jibs, motion control rigs, turntables, treadmills. You can learn more on our kit hire page or download our rate card for a full list.  We also have a neighbouring hire studio, our popular soundproof studio that can be hired as an alternative or in addition to hiring the infinity cove studio. Furthermore we also have our third studio, The Live Suite. With countless production filmed in our main studio, you're in safe hands at Galleon Studios.
Basic
Infinity Cove Studio

All Lighting

All Facilities

Gaffer

All Kit

Additional Studios
Standard
Infinity Cove Studio

All Lighting

All Facilities

Gaffer

All Kit

Additional Studios
Pro
Infinity Cove Studio

All Lighting

All Facilities

All Kit

2 Crew

Additional Studios
Please note: For the safety of all our clients there is an additional £30+vat cleaning fee on all bookings.
Download Our Brochure And Ratecard.
Which Studio Will You Choose?